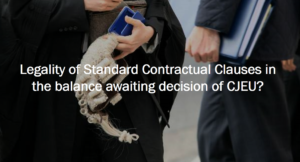 Ireland's High Court has just ruled today (Tuesday 3 October 2017) that the decision to ban the use of Standard Contractual Clauses (SCC) by social media giants like Facebook, Microsoft and Google to transfer users' personal data to the US must be initially decided by the Court of Justice of the European Union (CJEU).
Giving her judgment in open court, Irish High Court Judge Caroline Costello said: "I have decided to ask the Court of Justice for a preliminary ruling. European Union law guarantees a high level of protection to EU citizens…they are entitled to an equivalent high level of protection when their data is transferred outside of the European Economic Area."
This of course looks like a spooky re-run of the Safe Harbor legal action brought by Max Schrems that resulted in the...
Read More