Green Schools Revolution is one of the most innovative corporate social responsibility (CSR) programmes in the UK and could signal a new way for brand owners to engage with children and their families and turn traditional B2C sponsorship on its head.
That was the message delivered at a special PRCA Breakfast Briefing where Hopscotch Consulting explained its role in helping The Co-operative develop a nationwide CSR programme that has bagged a 'Special Award for Green Sponsorship' at this year's UK Sponsorship Awards 2014 to be announced later this month.
You could say Hopscotch Consulting has big plans for its Green Schools Revolution and has leap-frogged the competition with its three-dimensional approach to CSR.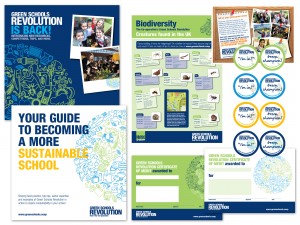 "We set up the agency three years ago to help brands in connecting with primary and secondary schools and then once through the school gates we wanted to extend that influence with the families of those children in a relevant, meaningful and ethical way where the educational experience of this journey was of paramount importance," explains Sam Mercer, co-founder of Hopscotch Consulting.
The challenge facing The Co-operative was to create an impactful CSR programme, bringing together disparate community and social programmes under one roof in order to deliver better outcomes.
"We needed to capture the imagination of a highly distracted and demanding audience of 4-18 year olds that are increasingly media literate and also highly cynical of brands that are simply trying to 'advertise' to them," explains co-founder Julie Noble.
Outside of lesson plans and teachers' resources, delivered through a specially created microsite, the CSR programme differed from others in the UK because it was rooted in behaviour of children to grasp and put into action the concepts being taught at school.
So the 'Walking Bus Kits' is part of the Green Schools Revolution encouraging parents to leave their gas guzzlers at home and allow children to get to school by walking together. This may sound simple but is incredibly effective in getting the message of sustainability into the home.
And there's funded school trips under the 'From Farm to Fork' part of the CSR programme in order for children to gain a deeper understanding about the food chain as well how fair trade can help support rural communities on a global basis.
This may all sound altruistic but it makes perfect business sense too.
The outcomes to date have been mind-blowing – by the end of last year, 7,000 teachers had registered to be part of Green Schools Revolution and the programme had engaged with over 1m primary and half a million secondary school children across the UK. Even Her Majesty Queen Elizabeth II paid a visit to a Green Schools Revolution programme in Manchester!
But it doesn't stop there, explains Sam Mercer.
"This hasn't just been about recruitment of schools, teachers, and children and their parents but part of a much broader picture that at its core is about adding value to the national curriculum in a flexible way and ultimately about influencing ethical behaviour and a conversation with The Co-operative at its centre."
The agency is also the brains behind Barclays highly acclaimed LifeSkills programme that's also up for the award for Best Education & Learning Sponsorship.