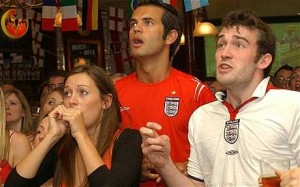 England fans won't be disappointed after pubs have been granted extended licensing to stay open when England is playing in the FIFA World Cup Brazil 2014 tournament that kicks off on 12 June.
Earlier this year, the British Beer and Pub Association that represents pub landlords in England had unsuccessfully tried to get the Home Office to extend licensing hours on a national basis in the same way pubs stayed open later for the Royal Wedding and Diamond Jubilee. The Government have the power to relax licensing hours for occasions of "exceptional international, national or local significance."
But Home Office minister Norman Baker was unmoved as he didn't consider the World Cup to be a national celebration and turned down the bid.
Still glowing after the most successful Olympic Games in history in 2012, Prime Minister David Cameron could see an 'own goal' being scored by the Government by not allowing drinkers to enjoy a pint and support the England team in the biggest football tournament in the world and personally intervened to relax the licensing laws for pubs so they could stay open later.
The Government's position now is that the World Cup is an occasion of exceptional national importance.
Licensing hours will therefore be relaxed during England matches that are scheduled to kick-off at or after 20:00. The relaxation will last for four hours to a latest time of 01:00.
This will affect England's first game against Italy on the 14 June that will kick-off at 23:00 local time, however the remaining two other group games are scheduled to kick-off at 20:00 and 17:00 respectively, where an extension of the licensing laws won't apply.
Without this extension, the other option for any pub that wishes to stay open late would be to lodge a Temporary Event Notice (TEN) to authorise a temporary extension to their licensing hours at a cost of around £21.
For subsequent matches – should England progress through the World Cup tournament – will be covered by an extension of licensing laws where kick off is at 21:00, except the Final of the FIFA World Cup that will be broadcast at 20:00 local time.
Effectively this means that many matches should be within the licensed hours of the majority of licensed premises.
However, there are other games, particularly in the group stages, that will have late kick-offs and the extension of licensing hours only applies to games that England are or may be involved in, and only until 01:00.
If there are other games that will be shown outside of licensing hours or after 01:00 in the case of England matches that pubs want to show their customers then it will be necessary to lodge a TEN to cover this period.