This article by marketing journalist Maeve Hosea first appeared in Marketing Week on 22 August 2013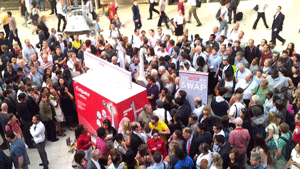 Fancy a free electric toothbrush? If it sounds too good to be true, it probably is. Colgate's giveaway promotion at London's Waterloo station last month, where people could swap their old electric toothbrush for a free ProClinical model worth £169.99, ended in chaos. Hundreds of people swamped the stand, which lead to Network Rail forcing the company to shut down the promotion.
Quick to capitalise on the blunder, rival Philips launched an advertising campaign with the cheeky strapline 'The best things in life aren't free'...
Read More