This article by marketing journalist Maeve Hosea first appeared in Marketing Week on 22 August 2013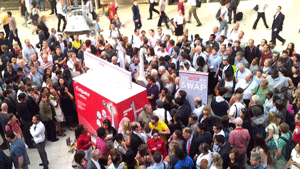 Fancy a free electric toothbrush? If it sounds too good to be true, it probably is. Colgate's giveaway promotion at London's Waterloo station last month, where people could swap their old electric toothbrush for a free ProClinical model worth £169.99, ended in chaos. Hundreds of people swamped the stand, which lead to Network Rail forcing the company to shut down the promotion.
Quick to capitalise on the blunder, rival Philips launched an advertising campaign with the cheeky strapline 'The best things in life aren't free'. It also offered a free Sonicare toothbrush from its own range to those consumers who had expressed disappointment on Twitter about being unable to redeem Colgate's promotion.
Promotional marketing is a valuable way brands can reach out and change shopper behaviour. However, that very influence on consumer behaviour can prove a brand's nemesis if a promotion does not go to plan.
"Sales and prize promotions are one of the fastest growing marketing tools in the world today, but marketers can easily fall foul unless they understand the ground rules," says Ardi Kolah, author of Essential Law for Marketers. "Philips took advantage of Colgate's mistakes and good on it for spotting an opportunity. In a sense it was ambush marketing in reverse."
As Colgate and a whole range of other marketing mishaps that have gone before show, too good an offer can be a problem. A classic example is the Hoover transatlantic flights fiasco of 1992. The company had promised free airline tickets to those who bought a vacuum cleaner or washing machine worth more than £100, however, the brand was unable to keep its end of the bargain. Court proceedings began and after six years, the debacle had cost the company nearly £50m.
It is crucial that brands can forecast the number of people who will take advantage of the promotion as well as possible. Risk management company PIMS-SCA estimates that around 10 per cent of all promotions will achieve a higher than expected response level.
Stick to the two golden rules for promotions: be thorough in your planning and make sure you're clear on why you're doing them
So unless the brand has suitably risk managed its campaign, then there is the potential for one in 10 promotions to go wrong like Colgate's giveaway.
Jeremy Stern, former Coca-Cola head of promotions and managing director of independent promotional verification service PromoVeritas highlights another pitfall from his tenure at the soft drinks giant. "The Fanta team wanted to have party in the sky for a hundred teens and had researched the cost of plane hire, worked out how to strip out half the seats and put in a dance floor," he explains. "But no one had considered the risks – and the cost of insuring the plane with all those jumping bodies was too high to proceed."
Hiccups happen to even the
Hiccups happen to even the most careful brands. Last November, Boots had to issue an apology to thousands of disappointed consumers who had entered its competition to win a luxury trip to Barcelona. In the course of administering the competition, Boots accidentally emailed all the entrants telling them they had won. It then sent a follow up email two hours later informing the entrants about the mistake and that they had not won.
"Businesses need to act quickly to restore confidence and reputation in the brand by coming clean and admitting mistakes," says Kolah. "What needs to drive decision making is reputation management, compensating disappointed customers and telling them what they've changed so that it won't happen again."
Boots was quick to respond, apologise and credit each of those who were falsely told they had won with a £10 voucher. The brand also launched a second competition for a trip to Barcelona, enabling all those who had entered the chance to win again.
In a statement, Boots said: "Boots UK always aims to offer exciting competitions and 'money can't buy' experiences and we are truly sorry for any upset that has been caused by this mistake. By way of apology we are offering a second opportunity to win a trip to Barcelona and we're giving £10 worth of Boots Advantage Card points to all those who entered, so they can treat themselves or their family to something from our stores."
Looking to offer more than just a reduced price or a freebie, marketers are constantly pushing themselves to come up with innovative solutions but that innovation should not undermine the fundamentals of the execution.
Haagan-dazs always has a contingency plan in case the response to a campaign is below the expected level
"You occasionally see 'scare stories' about promotions going wrong – small businesses failing to account for increased demand after listing deals on sites like Groupon," says Jennelle Tilling, vice-president of marketing at KFC UK & Ireland. "But they can be effective if you stick to the two golden rules: be thorough in your planning, and make sure you're clear on why you're doing them."
KFC follows the strategy of being clear up front on the consumer behaviour it wants to drive or the perception it wants to change. A promotion, argues Tilling, has got to drive a behaviour that can be measured, and if it does not translate into transactions and profit, it has not worked. "It's vital to do your projections, and ask yourself key questions such as how many units you can afford to shift, what the operational challenges will be, and if you're going to require any extra resource," she says. "Once you've done this, you can develop the terms and conditions of your deal to make sure that you're covered against any nasty surprises."
Clear terms and conditions are arguably the key to running a successful promotion but they are frequently ill-considered. Last year, the Institute of Promotional Marketing issued a warning to brands to tighten up their terms and conditions when executing campaigns. This came in the wake of an on-pack promotion Pepsi ran offering customers the chance to win £500 every hour, which left it vulnerable to being targeted by individuals generating thousands of entries. One family won several prizes after entering 11,000 times using several slightly different e-mail addresses. The drinks brand said it would only honour a single win. The Advertising Standards Authority concluded that although multiple entries were not "within the spirit of the promotion" Pepsi had failed to make the unacceptability of multiple entries "sufficiently clear".
Before starting any activity, be clear on what you're trying to achieve – whether it's a trial, education or driving usage occasions
Crucially, promotional marketing has to be seen to be clear with its consumers. New Covent Garden Soup Co ran a campaign last year, inviting its consumers to 'Win a Farm'. This head-turning concept was an unusual promotion that was conducted on an instant win basis, with one winning code across all packs, but nobody found the winning code. Although legal, the implication was that the brand was misleading its consumers by not offering a true chance to win. The company would not comment on any updates it has made to its promotional strategy following this execution.
Drinks manufacturer AG Barr's group brand manager of carbonates and stills Hamish Thomson underlines the importance of assessing redemption levels in advance of promotional marketing best practice for promotional marketing. "This is done by looking at the construct of the mechanic against the budget and seeing how far you can stretch the prize amounts to make it compelling for consumers," he says. "Then we creatively wrap the offer to make it exciting – making it believable is key."
AG Barr adopts simple principles like use of frequency to enable consumers to feel as if they have a good chance of winning regularly and not making the prize too big, so that they believe they can win in the first instance.
As well as ensuring a competition is highly relevant for target consumers, giving it scale and keeping it simple, marketers need to be meticulous in planning and execution. Brands need to be mindful that after a promotion fails to meet consumer expectations, it can be difficult to win back confidence. But for those who get it right the rewards can be a closer relationship with customers.
Promotional marketing licked
Joseph Liu, senior brand manager of global strategy and communications at Häagen-Daz gives his top tips for getting promotional activity right.
Before you start any activity, be clear on what you are trying to achieve whether it is trial, education or finding more occasions for the product to be used. Then engage consumers accordingly.
It is important that the promotions have some value-added benefit that goes beyond simply free product or money off vouchers. They need to serve as a conduit to something that matters to consumers, whether it is a functional need or something more aspirational and emotional.
Ultimately, you should be providing an experience that makes consumers feel special. Coke comes to mind with Small World Machines, where it created a virtual portal between India and Pakistan, allowing people to interact. It's not just about the Coke can coming out of the machine; it's about creating a connection with people.
Have a contingency plan in place. You can't plan for everything but you shouldn't assume that the base case is what is going to transpire. Have a strategy ready if the response is below or above what you expect and question whether the agency you are working with has thought that through. It is much better to over-deliver on something simple than under-deliver on something ambitious.
How a brand handles a crisis can make or break it. Transparency and acknowledgement can go a long way. Honesty can be refreshing and disarming.
Avoid overcomplicating things: keep it simple. That goes back to being clear about what you are looking to achieve and focusing on that one objective.
Case study
Butter up: Country Life
Country Life is looking to grow volume sales beyond 2012's 4 per cent growth figure. Working with shopper marketing agency Dialogue, parent company Dairy Crest developed an on-pack promotion that offers shoppers a chance to win hundreds of picnic kits full of local produce this summer.
"Promotion forms part of the brand experience, and therefore providing one that is consistent with your brand values and the broader campaign is paramount," says Tania Roberts group brand manager at Dairy Crest. "A good experience can make consumers warm to the brand, regardless of whether they won a prize, but the reverse is also the case and a bad experience can turn people off the brand."
Butter brand Country Life's 'Luvverly Lunches' campaign sees the return of the Buttermen, iconic advertising characters last seen more than 20 years ago that work to champion taste and communicate the quality and Britishness of the brand.
Facebook and other online activity featuring the Buttermen emphasises the goodness of the butter. Dairy Crest has made sure the characters keep fans up-to-date with 'news' on a Facebook page where people can enter the promotion with unique pack codes and listen to the Buttermen's views on British lunches with daily audio-casts. Another element to this strategy is the Country Life picnic app – a guide to great picnic spots across the UK.
"Running a nationwide promotion on millions of packs is a complex task requiring tight coordination, and it's vital to engage all parties at the outset to plan and agree milestones – from brand, trade, agency and sales teams to printers, production and logistics," comments Roberts.
"Had our picnic promotion faced delays through lack of planning, we could have been running what is clearly a summer campaign in October"
Crucially, a promotion needs to be clear and transparent so customers' expectations are fulfilled. Brands need to consider the risks and contingencies and assume that people will attempt to break their system. With this in mind, Dairy Crest aims for unambiguous terms and conditions, with a clear entry mechanic and easy to follow instructions.
The need to take a cautionary approach on terms and conditions is underlined by Sam Blunt, brand experience and digital controller at Kellogg's and director of the Institute of Promotional Marketing (IPM).
"Things going wrong is only part of the territory if you cut corners, don't put in place the proper checks, and don't apply the right level of executional rigour," says Blunt. "Our legal team at Kellogg's has made IPM legal approval mandatory for all promotions."
Dairy Crest follows the same tack and is also mindful of the brand messaging. "While it's really important to get IPM and legal sign off on terms and conditions, so they're robust, you also have to make sure the language used is customer friendly so that they are clear," says Roberts. "In terms of seeing the experience through, we even have a fulfillment house in place that contacts all winners personally and can take customer calls and answer any questions."
Copyright © Marketing Week 2013.