In a packed schedule over three days (Monday 10-Wednesday 12 March), over 250 delegates from around the world will descend on the ski resort of Davos, Switzerland to debate the key issues that are impacting both the public relations industry and its clients and strategies for leveraging the value of forthcoming opportunities across global markets at the World Communication Forum.
The full agenda for the Forum is available here.
A particular area of interest on the Davos agenda this year is how global events – such as the FIFA World Cup Brazil 2014 and the forthcoming FIA Formula-e Championships 2014/15 – help to create sustainable economic impact for host cities around the world.
An international line-up of speakers will debate the issue:
Increasingly cities need to compete to attract major sports and entertainment events as these deliver massive economic benefits to the local economy. For example, it's estimated that the London 2012 Olympic Games generated £4bn/€4.8bn of construction-related projects that included new housing and infrastructure projects that have transformed large swathes of what was derelict tracts of land in East London.
I will refer to new research published by IMR on the incremental business opportunities that flow from such events and how the sports marketing, infrastructure and consultancy services sector is set to grow over the next decade. I was recently interviewed about the report and its significance by Simon Rines at Lord's Cricket Ground and you can watch this here.
My presentation at Davos will also describe the process an EIA is made on a major sports and entertainment property such as the FIA Formula-e, which begins its first World Championship race in Beijing in September 2014.
Governments around the world now recognise that hosting major global sports and entertainment events are some of the best ways to stimulate economic growth, employment and tourism as part of an eco-system that delivers a net positive impact to the national as well as local economy.
Major cities now regularly bid to host one-off events that help those cities to transmit a modern, exciting and vibrant profile to audiences around the world and making them an attractive destination for visitors as well as generating incremental new business in the local economy.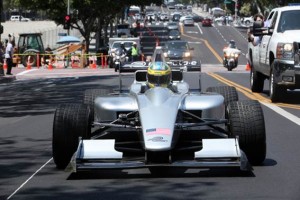 FIA Formula-e is the latest high-tech example of the convergence between sport and entertainment.
The FIA Formula-e Championships 2015 will take place in major cities around the world, providing a showcase for the car industry that's experiencing a huge transformation towards a more efficient and sustainable future built on the manufacture of electrically-powered vehicles as the planet's natural mineral resources rapidly become depleted to the point of extinction.
Note to Editors
World Communication Forum in Davos is a global event initiated in 2010 by an international committee, and it has gained the support of numerous partner associations and organizations worldwide: IAB Europe, The Holmes Report, International Communications Consultancy Organisation (ICCO), International Association of Business Communicators in EMENA (IABC-EMENA), Public Relations Consultants Association in UK (PRCA), Association of PR Agencies in Switzerland (BPRA), Trans-Arabian Creative Communications (TRACCS), Mexican Association of Public Relations, Russian Public Relations Association (RPRA), Armenian Public Relations Association (APRA), Bulgarian Association of PR Agencies (BAPRA), Association of Business Communicators of India (ABCI), Brazilian Association of Communication Agencies (ABRACOM), Italian Association of Public Relations Agencies (ASSOREL), and more.