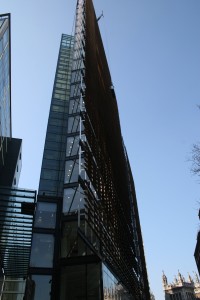 UK-based companies face a major shake-up in how they conduct consumer sales and marketing activities over the next 12-months in the wake of a raft of new laws and regulations emanating from the UK and European Union (EU).
With a closer focus being taken by UK and European legislators on the individual's right to privacy, marketers face one of the toughest marketing regulatory regimes in the world.
So keeping up-to-date with a torrent of guidance from the Information Commissioner's Office and ever more prescriptive drafts of the forthcoming EU General Data Protection Regulation is now essential in order to stay one step ahead of the competition.
We are kicking off our first 2014 Law and Marketing seminar  with a terrific line up of speakers and experts that will help guide you through the recent changes in sales and e-marketing laws that affect every marketer in the UK and practical steps you can do to help future proof your business.
The event is organised by the Worshipful Company of Marketors (WCM), co-hosted with leading law firm Speechly Bircham and in association with Opt-4. 
Date: Wednesday 26 March 2014
Time: 4.00pm-7.30pm
Venue: Speechly Bircham LLP, 6 New Street Square, London EC4A 3LX
Nearest station: Holborn Underground
Dress code: Business attire
Drinks and refreshments will be provided.
The distinguished panel of speakers are:
Robert Bond

, partner, Speechly Bircham

Jenny Moseley

, Member of the Law and Marketing Committee and Director, Opt-4

Fedelma Good

, Director, Information Policy & Strategy, Barclays

Jonathan Dunne

, Director (EMEA), Warner Brothers

Rosemary Smith

, Director, Opt-4

Janine Regan

, Solicitor, Speechly Bircham

Ardi Kolah

, Chairman of the Law & Marketing Committee, Worshipful Company of Marketors will moderate the event.
There will be a Q&A session at the end of the presentations.
Booking details
Places are going fast, so please book without delay by EMAIL: Marketors@promoveritas.co.uk

Please note that places are limited to one guest per booking. Suggested minimum donation £10 per person to The Marketors Trust. Cheques to be sent to: Knightsbridge House, 130 Marsh Road, London HA5 5LX  and mark the envelope 'Law and Marketing Update'.
About the Worshipful Company of Marketors
The aims of this City Livery Company are to actively support the Mayor and the City of London Corporation; promote marketing education and the benefits of the profession of marketing to those in the City, the Livery and beyond; give back both financially and in-kind and make a contribution to the development of marketing and bring in and retain Members, fostering fellowship and planning and arranging succession.
About the Law & Marketing Committee, Worshipful Company of Marketors
There's been a seismic change in the sales and marketing legal landscape that's transformed the way we work, irrespective of whether this is in the public or private sector. The EU has effectively rewritten the law on privacy, human rights, data protection and marketing across the web and mobile networks. And more changes that are critical to modern marketing management are in the pipeline. Keeping up-to-date on all these changes can be difficult and very time-consuming. The Law and Marketing Committee help to steer Company Members through the legal minefield of key EU and UK laws. 
In addition, the Law and Marketing Committee also examines whether the marketing profession is upholding the 'spirit' of what the law intended by embracing ethics, principles of fairness, respect for the individual and upholding the highest standards of professional conduct expected in our profession and will play a leading role within the City of London in influencing that important debate.
About The Marketors Trust
The Trust was formed to provide and encourage education in marketing, with special reference to the City of London. It grants recognition of education achievements and provides assistance to persons undertaking advanced educational courses relating to marketing. The Trust has a continuing programme of support by way of donations to selected charities. These include St Bride's Church (associated with the Company), charities supported by the Lord Mayor's Appeal, those connected with the Corporation of the City of London and relief of Liverymen and Freemen in need.
About Speechly Bircham LLP
Speechly Bircham is a full-service law firm with over 200 lawyers, headquartered in London. It works with business and private clients across the UK and internationally and focuses on the financial services, private wealth, technology, real estate and construction sectors.
About Opt-4
Opt-4 is a leading data protection compliance consultancy that offers support to a wide range of organisations on a tailored basis to suit individual requirements.