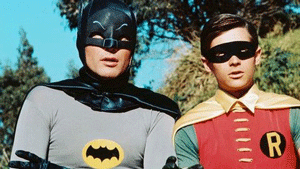 I'm gonna put my cards on the table and declare unashamedly I'm a massive fan of American culture! As a kid growing up in a small town in Essex on the edge of London, my escapism from the boredom of living on a council estate was through the black and white TV set in the corner of our living room!
It was here that I started to develop a taste for everything American – from the brilliantly funny Hanna-Barbera cartoons such as the Flintstones and Top Cat; the wacky '60s series starring Adam West as Batman with Burt Ward as Robin; the surreal and wonderful world of Captain James T Kirk and Spock in the original 70s series of Star Trek and then onto the remarkable Lou Grant with Ed Asner; the wonderful drama The Paper Chase set at Harvard Law School with John Houseman as its irascible professor and the gritty Hill Street Blues – by which time my parents rented a color TV and I realized that the Starsky & Hutch two-door Ford Gran Torino was in fact red and not grey!
I didn't know it then, but a lot of my formative years were influenced by the culture I was consuming in my parents' living room and why I think great marketers are Culturematics at heart.
The term was coined by American social anthropologist Grant McCracken, who subtitled the book of the same name as 'How Reality TV, John Cheever, a Pie Lab, Julia Child, Fantasy Football, Burning Man, the Ford Fiesta Movement, Rube Goldberg, NFL Films, Wordle, Two and Half Men, a 10,000-Year Symphony and ROFLCon Memes Will Help You Create and Execute Breakthrough Ideas.'
OK, you get it?
At the centre of the mind of a Culturematic are an unconnected series of tiny explosions of pop culture, which Grant McCracken likes to call "experiments". These are any of things that I mentioned at the top of this blog or indeed reside in the subtitle of McCracken's book as well as inside your head!
A recent example is the tweets by US futurologist Bud Caddell who pretended to be a member of the mail room in the smash TV show Mad Men. It's quirky and brilliant and it made Bud Caddell part of the Mad Men franchise and an internet star at the same time, although it had absolutely nothing to do with the producers of the show.
In a sense Bud Caddell, Grant McCracken and many other innovative thinkers are on a journey that helps to unravel cultural meaning that we didn't know existed. And for marketers, it's about creating economic value that we hadn't glimpsed.
It explains in part why I conceived The Guru character of the popular Guru in a Bottle Series of sales, marketing and law books and why we're now working on turning The Guru into a lip-synch series of animated cartoons for those who need to get to grips with sales and marketing laws and regulations without getting bored stiff in the process. We want to make online compliance training fun!
At first glance this sounds a bit counter-intuitive and even playful in the context of something as serious as sales and marketing compliance law and regulation. But we believe there's a serious business on the back of it and why we want to engage more carefully with these playful things. Because that's actually where extraordinary opportunities for the discovery of value exists in today's global economy. We want to break the rules of product innovation in online legal compliance training by taking a cartoon approach with an established cartoon character.
Culturematics tend to discover domains and product categories that nobody else knows exist and capture a lion's share of value before the competition come speeding around the corner.
It's why I'm a big fan of Unilever and recently had the honour to have dinner with a group of fellow marketers from my Livery Company in the City of London with Keith Weed, the Chief Marketing and Communications Officer for Unilever responsible for a budget in excess of $3bn!
Keith Weed spoke passionately about the success of Unilever as the producer, not just of new products, but of new product categories, and where sustainability sits at the heart of its future global success. Innovation runs through the veins of the company and isn't restricted to 'innovation hubs' or behind closed doors.
Innovation can also be completely unexpected and unplanned. And Twitter is a good case in point.
When it was originally conceived, Biz Stone and colleagues thought they were inventing something that would enable ambulance drivers to communicate with one another in the hospital in emergency situations. That was the point of the small bursts of data. They'd no idea that in fact a larger – a much, much larger community – would want to have access to these tiny bursts of communication!
Grant McCracken sums this up perfectly: "I think that's why some of these Culturematics are so completely unpredictable. They don't come from a corporate mentality. They don't come from a hipster mentality. They're just the free-play of creativity as people take on the new opportunities to create, express and disseminate their ideas."