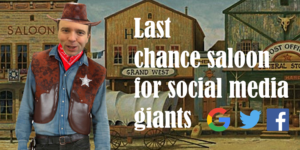 Last chance saloon for social media giants, warns Matthew Hancock, Secretary of State, DCMS as British Government raises the prospect of a 'breach of duty of care' owed to users of social media services and promises more legislation unless they get themselves sorted out.
Speaking to The Sunday Times (25 March 2018), Hancock said Facebook and other tech giants that harvested personal data from users would be ordered to simplify their terms and conditions so they fitted on a single page.
He's summoned Facebook, Google and Twitter to a showdown next month following revelations about the way Facebook data was used by the UK firm Cambridge Analytica to help Donald Trump's Presid...
Read More