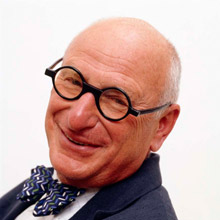 It is with great sadness and sorrow in my heart that I have to announce to the Guru in a Bottle community that my friend and mentor Wally Olins CBE has died after a short illness at the age of 83. 
He was an inspiration to me in my career and mentored me when I was tasked with re-branding the Royal Military College of Science.
I will always remember Wally as being incredibly charismatic, a brilliantly creative thinker and he had a rare and special gift – the capacity to take a keen interest in others around him in a very generous and warm-hearted way.
I had the pleasure of having lunch with Wally several times (he always insisted on paying!) and I always left cherishing the advice he often gave to me about marketing and about life in general.
We both shared a passion for India and I always felt Wally was a really special person and I'm incredibly proud to have got to know him.
May God Bless You Wally.
And my sincere condolences to his family who are mourning his loss among many, many others who got to know Wally as a wonderful human being.
This is the obituary about the wonderful Wally Olins that appears on Brand Republic today:
Wally Olins, who founded the UK's first brand consultancy in the 1960s and was famous for his trademark bow tie and round heavy-rimmed glasses, was responsible for re-branding British Telecom as BT and was also instrumental in the creation of the iconic telecom brand Orange.
Olins began his career in the early 1960s, running Ogilvy & Mather in Mumbai, before hooking up with Michael Wolff and starting Wolff Olins in 1965. He sold the business in 1997 and went on to set up Saffron Brand Consultants in 2001, of which he was chairman until his death.
Rufus Olins, one of Wally Olins' four children, former managing director of Haymarket Brand Media and currently chief executive of newspaper marketing body Newsworks, paid tribute to his father.
He told Marketing: "I'd say on a professional level he was a pioneer who was fearlessly intellectual and prepared to say what he thought, regardless of the consequences. He legitimised an industry that didn't really exist when he started – he found something that he felt was important and meaningful, about the identity of an organisation that manifests itself visually."
Rufus Olins added that his father was "incredibly curious" and a "great internationalist".
"He was a humanist more than a corporate administrator," he said. "A side less familiar to people is that he was a man of huge warmth, generosity and abundant love, who greatly adored his family and was adored by them in equal measure."
Ian Smith, Saffron Brand Consultant's managing director, posted a tribute to Olins on the firm's website, in which he said: "A genuine pioneer, Wally was one of the leading individuals that helped carve out the business of branding – he would always say he did it 'with colleagues' but those of us that were lucky enough to have been his colleagues know that this is only partly true.
"Oddly for a man who was so defined by his prolific talent, he will perhaps be remembered most for his incredible generosity and optimism. Whether advising a young student looking for advice on getting ahead in branding or advising presidents on ways to enhance their nation's brand, Wally was always willing to give more than he expected to receive."
As well as a businessman, Olins was a prolific author, with his latest book 'Brand New: The Shape of Brands to Come' only just published last week.
Other titles penned by Olins include 'On Brand'.
He was made a CBE in 1999.