Seven days a week, 24 hours a day, hundreds of millions of consumers around the world cross national borders without a second thought – and often without realising that they've done anything unusual. This community scours the web for the ideas, products and relationships that they might not be able to find easily – if at all – where they live.
This borderless community makes up a virtual "Eighth Continent" that's rapidly accelerating beyond 1bn inhabitants. And it exists wherever a PC/tablet, desktop, mobile phone or TV set top box hooks to the web. Until the web pulled together this huge electronic society its citizens were unreachable without brand owners making a massive investment in locations, infrastructure and people in each and every market they wanted to do business in.
Without doubt, there are huge rewards for brands that establish themselves as part of the global elite.
According to the 2014 Brand Finance Global 500 most valuable brands in the world, the top ten global brands combined are worth a staggering $6 trillion!
| | | |
| --- | --- | --- |
| Global Rank | Brand | Brand Value ($bn) |
| 1 | Apple | $104.68 |
| 2 | Samsung | $78.75 |
| 3 | Google | $68.62 |
| 4 | Microsoft | $62.78 |
| 5 | Verizon | $53.46 |
| 6 | GE | $52.53 |
| 7 | AT&T | $45.41 |
| 8 | Amazon | $45.14 |
| 9 | Walmart | $44.77 |
| 10 | IBM | $41.51 |
Source: Brand Finance (2014)
Even the 100th ranked brand, DHL, is worth a cool $11bn, so it's easy to see how popular global brands pull in big bucks.
But making an assumption of using the same strategies and tactics to reach those living on the "Eighth Continent" is fraught with danger. And so too is assuming that you are acting with cultural sensitivity when in fact you could end up causing offence with other customer segments.
From a brand management and communication perspective, language and culture are two significant forces that impact the way in which brands communicate with desired audience and customer segments both at home and abroad.
And it's very easy for brands to tie themselves up in knots when attempting to address linguistic and cultural differences on a global basis.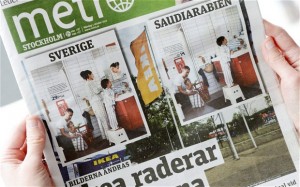 For example, back in 2012 Swedish self-assembly manufacturer Ikea (with a brand value of $18.47bn/global rank 53) got into hot water when it was found to have airbrushed women from its product catalogue distributed in Saudi Arabia.
Ikea had felt it was acting in a culturally sensitive way as women rarely feature in advertising campaigns in that country and when they do their legs, arms and hair are usually covered in line with the Sharia-inspired strict dress code. What they failed to recognise was that they are a Swedish, not Saudi Arabian brand.
And what Ikea hadn't banked on was that its constituents back home regarded it as a 'global brand ambassador' and representative of Swedish culture globally.
This was a perfectly reasonable assumption to make as Ikea has built its brand on the extensive use of blue and yellow that is of course the colours of the Swedish national flag.
So it was with much consternation to Sweden's Minister for Gender Equality, Nyamko Sabuni "that Ikea had decided to remove an important part of Sweden's image and an important part of its values in a country that more than any other needs to understand Ikea's principles and values, and that's completely wrong," she said.
Ikea's senior brand marketing and communications team must have felt like a rabbit caught in the headlights and quickly went into damage limitation mode: "We should have reacted and realised that excluding women from the Saudi Arabian version of the catalogue is in conflict with the Ikea Group values," intoned a company spokesperson.
Marketing journalist Rob Gray, in his book Great Brand Blunders is equally unsympathetic as he feels Ikea should've known better how to have handled such issues from its experience in the past.
"Bear in mind that this is the same company that in the 1990s ran one of the first (albeit little shown) TV commercials in the USA to feature a gay couple – and received bomb threats in response. Obliterating women in an act of censorship certainly didn't look good to many Ikea customers in markets around the world more used to a liberal, inclusive stance from the brand."
Rob Gray also feels this cross-culture blunder is of greater significance than some of the names the Swedish retail giant has chosen for some of its best-selling furniture lines, such as the robustly named Fartfull work bench!
Perhaps something is lost in translation, eh?
Either way, Ikea could have found a solution to the way in which it marketed its products without going to the lengths of airbrushing out its female models.
"And mistaking one nationality for another is obviously to be avoided in marketing activity, all the more so if its stirs up long-rumbling issues of colonialism," adds Rob Gray.
In the UK, Her Majesty Queen Elizabeth II celebrated her Diamond Jubilee in 2012.
Brands were keen to jump on the bandwagon to join in the national celebrations and the Diamond Jubilee was also declared a public holiday.
In those happier times and without accusations about not paying UK taxes circling around its head, Starbucks (with a brand value $59.9bn /global rank 120) merrily tweeted "Show us what makes you proud to be British."
Er…except Starbucks sent the same tweet to 2,000 plus followers resident in the Irish Republic!
Unsurprisingly, this didn't go down too well with Irish coffee drinkers.
"Right now someone in Starbucks Ireland is wishing there was a Twitter version of the memory wiping thing from Men in Black."
Top tips to avoid having a culture clash:
Understand the attitudes, values, beliefs, perceptions and behaviours of your desired customer segments and ensure that brand marketing and communications takes account of these variations
Provide brand communication and marketing that will address desired audience and customer segments in an authentic way and stay true to your brand values and what you believe in – after all, that's what a global brand is all about
Work and collaborate with marketing and PR professionals in local markets not to simply translate what you want to say but to interpret the sense of what it is you want to communicate in a way that makes use of culture and language to full effect
Don't slavishly rely on Google Translate or other free online tools to mechanically create language content as it's often not able to capture the nuances of brand marketing and communications that you want to deliver
Understand that culture and language is a force that needs to be understood and appreciated in packaging brands, names and marketing messages to cultural diverse audiences
Don't confuse thinking that everyone who's connected with your brand on the web will respond in exactly the same way to brand communication and marketing – they won't
And make sure you don't confuse one nationality or cultural group with another, particularly where there's a shared history between such people!