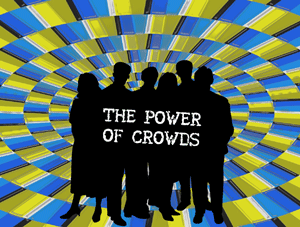 Entrepreneur, lawyer and international deal-maker Clive Rich spotted a gap in the market for delivering high quality legal services to small-medium sized companies at the fraction of the fees that would normally be charged by a high street law firm.
The difference was that this legal advice would be delivered online and LawBite the brand was born.
But rather than go to a private equity provider or a bank in order to bankroll the new venture, Rich decided to use crowd sourcing to finance the enterprise.
In fact, seeking investment from the same small-medium sized companies that would want to use these legal services in the first place was a stroke of genius.
This deceptively simple approach, that tapped into the power of social media, has netted Rich a cool £550,000 in investment in a little less than six months and has made LawBite one of the ten most successful crowd-sourced businesses in the UK.
What's interesting is that such business models didn't exist even a couple of years ago and according to Rich the level of interest he's been able to attract in this way has been staggering.
"In the first round we raised just over £210k in cash and kind and an additional £240k from Crowdcube in just 12 days! We've now gone back to Crowdcube for a top up of around £120k because they're a number of partnership opportunities that have developed which weren't available to us when the last round was taking place," he says.
To watch the LawBite marketing pitch, click here.
By all accounts, the business has taken off faster than first anticipated. In particular, there's been interest in franchising the LawBite model from investors in Ireland, Spain, Holland, Scandinavia and as far as the US and India.
"This suggests that the problem of affordable, understandable law for small-medium size companies is a scalable one, given that there are in excess of 25m SMEs in Europe and another 27m in the US alone, so we need extra resources to tap into these markets," Rich explains.
LawBite has also entered into a joint venture with My Barrister, the leading UK supplier of direct access to these specialist lawyers and over 100 barristers are already on its books – and it's only just started.
"We did this because we could see a mutually beneficial way of driving referrals between these two online businesses for the benefit of small-medium sized companies so it made strategic sense to find a way of working together," says Rich.
This new economy model looks like taking off big time and now LawBite has bagged an exclusive contract to provide legal advice to those companies that have signed up to the UK Government's initiative to pump £140m of start-up loans into small-medium sized businesses.
Rich says that the value of LawBite has gone up by one third since its launch in under a year and if his projections are right the company could be worth over £30m by the end of 2016 – a return of 20 times for those who invested in the first Crowdcube round.
Those interested to get involved can contact Clive directly by clicking here