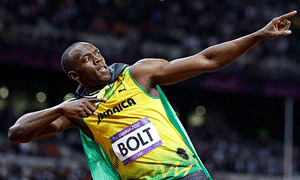 One of the buzzwords of 2013 has got to be "big data." I was recently in a boardroom meeting where talk of leveraging "big data" was a popular favourite around the table.
This made me smile. Over the last 20 years I've been involved in understanding how sport and entertainment can be used as a powerful brand communication and marketing platform. Many organisations and businesses have a lot to learn from sports rights owners who've been exploiting data for gain competitive advantage for many years.
Whether its athletics, soccer, F1, swimming, tennis, basketball or baseball, "big data" has been at the heart of developing a winning strategy in this industry.
It starts from understanding the factors behind success and failure, assessing competitors' strengths and weaknesses and measuring the impact of tactical changes. In sports such as athletics, even the smallest of margins – measured in fractions of a second – can make a difference. Data analysis that goes to the heart of what drives performance has become a critical exercise.
As Lord Sebastian Coe, who oversaw the biggest Olympic gold medals haul ever by Team GB at London 2012 remarked, "If you don't know why you failed, how can you improve? And if you don't know why you succeeded, it must be an accident."
This insight is very valuable for marketers seeking to improve their efforts and understand their setbacks, as sport can teach us how to use data to derive a competitive advantage, a point I make in my latest book, The Art of Influencing and Selling.
And I'm not talking about some after-dinner reminiscence of a sporting legend who's made a tenuous link between what happens inside and outside of the rugby scrum.
Data analysis and data-driven thinking are fields in which athletes, players and teams have genuinely led the way. It's no coincidence that those who've enjoyed success on the field of play also happen to be at the forefront of data exploitation. Using insight and intelligence to make an informed judgment makes perfect sense. It just so happens that, culturally and technically, this has been quite challenging for many organisations.
One of the issues is that many people don't use data to form an opinion, but rather to justify an opinion. This narrow view can actually hinder an effective decision making process.
The renowned economist Kenneth Galbraith once said: "Faced with the choice between changing one's mind and proving there's no need to do so, almost everyone gets busy on the proof."
Many people I've come across in my career often see evidence as a threat to their own point of view or methods. Technical barriers shouldn't be underestimated either. Many organisations have lost faith in their data due to years of reports where the numbers just don't work due to poorly integrated systems or not being around long enough to deliver real insight. In the absence of this robust approach, managers are forced to make 'seat of the pants' judgment calls.
A recent article in the highly respected Harvard Business Review calls for a move away from developing strategies based on HIPPO (Highest Paid Person's Opinion) and towards data-driven decision-making.
The evidence is that companies that do this are 5% more productive and 6% more profitable than their competitors.
Meanwhile, on the 28 July,   Mercedes AMG F1 driver Lewis Hamilton proved the point when he clinched the Hungarian Grand Prix. "This was one of the most important wins of my career," he tweeted.
Lewis Hamilton and his team ingest huge volumes of data during a race – taken via telemetry from his car, external weather feeds, historical patterns of performance – and process this to develop a real-time race strategy. In fact, this approach is so powerful that many F1 teams claim that by lap three they're able to predict the outcome of a race to a 90% degree of accuracy. With this big data at their disposal, there's no room for hunches.
In summary, marketers should learn to become higher-performing by following these simple seven steps:
Step #1: Have a vision and a plan for how to get there
Step #2: Build a model for what you're trying to measure and improve
Step #3: Integrate data so that you can see the whole picture
Step #4: Ensure good data quality
Step #5: Put data into the hands of the marketing team
Step #6: Have a broad funnel of ideas
Step #7: Use data driven thinking to challenge received wisdom.
Follow these steps and you're on your way to being a champion!
To read more about how data can drive business development and sales, click here