In a spectacular volte-face, Coca-Cola has embraced the voluntary front of pack 'traffic light' system that alerts British consumers to the calorific value of the product in order for them to make informed choices about what they are ingesting and help move them towards having a more balanced diet and healthier lifestyle.
What's disappointing is that the beverage giant didn't have the foresight to embrace this opportunity last year when the voluntary labelling scheme was first introduced by the Government.
By missing this opportunity, Coca-Cola made it look like it had something to hide and this also reflected negatively on its reputation.
The result of this stance was that Coke had placed a question mark over its carbonated product lines that these were in some way were contributing to the increase in the highest incidence of childhood obesity in Europe – in the UK, 26% of adults and 16% of children are obese, lagging slightly behind the US in terms of a national health issue.
Health campaigners, such as www.hipandhealthy kids.com have argued that the carbonated drinks industry needs to come clean about the adverse health affects that its products cause for those who consume them, often in the mistaken belief that diet-varieties are healthier options.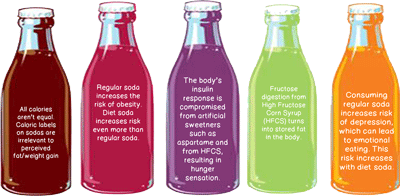 The Department of Health says the voluntary system, introduced in June 2013 and part of the Government's Responsibility Deal was designed to make it easier for consumers to make healthier choices about the foods and drinks they consume and encourage them to adopt healthier lifestyles.
Any such scheme relies on imparting what can be quite complicated and complex information with clarity and simplicity. Tests showed that the 'traffic light' system ticked the box in explaining how much saturated and unsaturated fat, salt, sugar and calories were contained in the serving of the product. This information is presented as "Reference Intakes" and replaced "Guideline Daily Amounts" (GDA) that had actually caused consumers to be confused as to whether the consumption of the product was likely to tip them over the edge or not.
Coke rejected this evidence and claimed that it would continue to use single-colour GDA labelling across the UK and EU member states. And they weren't alone, joining other brand owners including Mondelez (owners of Kraft and Cadbury brands), United Biscuits, Unilever, Kellogg's and Dairy Crest.
According to a recent report in Marketing Week, Mondelez and United Biscuits have no plans to switch to the traffic light system – but it could just be a matter of time that they're forced to under consumer pressure and where the argument of saying the GDA system works better will start to wear a bit thin. Other brand owners, such as PepsiCo, Mars and Nestle as well as all the major supermarkets now have switched to the traffic light system.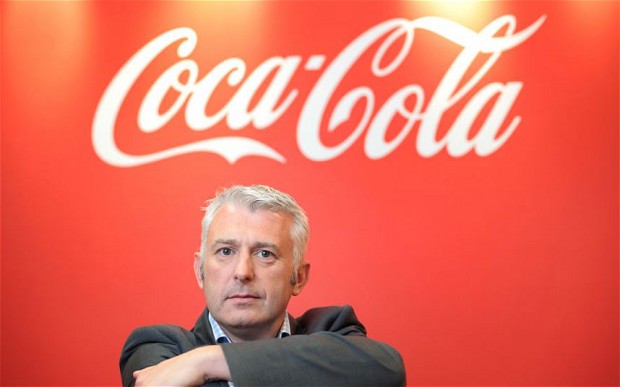 Jon Woods, Coca-Cola Great Britain and Ireland general manager, explained: "Our UK consumers have told us they want a single, consistent front-of-pack labelling scheme across all food and drink products to help them make the right choices for them and their families. We've decided to put the new scheme on our packs here."
Coca-Cola has pledged to implement the new labelling scheme across all its beverage lines in the UK but excluding Schweppes Abbey Well and Glaceau smartwater.
The Coca-Cola master brand and Coca-Cola Life brand will display "red" labelling as these products contain 35g and 22g of sugar respectively.
Professor Susan Jebb, chair of the Public Health Responsibility Deal Food Network welcomed the move:
"I really welcome this announcement that Coca-Cola Great Britain is signing up to the Responsibility Deal pledge on front of pack labelling. Together with its other work to decrease the sugar content of its products, introduce lower calorie options and reduce portion size, it represents a real step forward for the company in recognising its responsibilities for public health and supporting its customers to make healthier choices and control their calorie intake."
But this shouldn't be seen as being an altruistic move by the drinks giant but clearly a defensive move in protecting its brand reputation that can so easily be damaged unless it takes some responsibility in the 'calories in, calories out' debate that circles around the heads of food and drinks manufacturers as part of the wider debate about the health of the nation.
In a recent debate around the economics of reputation, a maj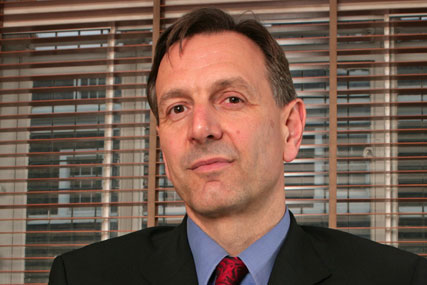 or initiative launched by the PRCA, Mark Lund, the newly appointed Group CEO at McCann Worldgroup said that reputation – rather than public relations – is now what really counts for his clients.
"It's getting harder to differentiate between one product or service and another. Reputation, on the other hand, can help a company secure the 'licence to operate' that it needs to do business in the first place."
He added: "Reputation helps to build a strong consensus among customer segments as well as the wider community at large."
Coca-Cola looks like it's taken such advice to heart and has pledged it will make a £20m investment to fund community-based physical activity projects as it hopes to inspire a million consumers in the UK to become more active by 2020.