My guess is you've never heard of PewDiePie, have you?
But what if I told you this Swedish vlogger who loves sharing the latest video games and slightly bonkers videos on YouTube is also the biggest star on YouTube himself with 32,222,075 subscribers and a whopping 6,753,075,673 views.
And he launched his channel in April 2010.
Closer to home, my daughter Zara loves this YouTube vlogger.
And by all accounts so do very many other teenager girls who follow her latest musings – if fact over 6.5m subscribers do.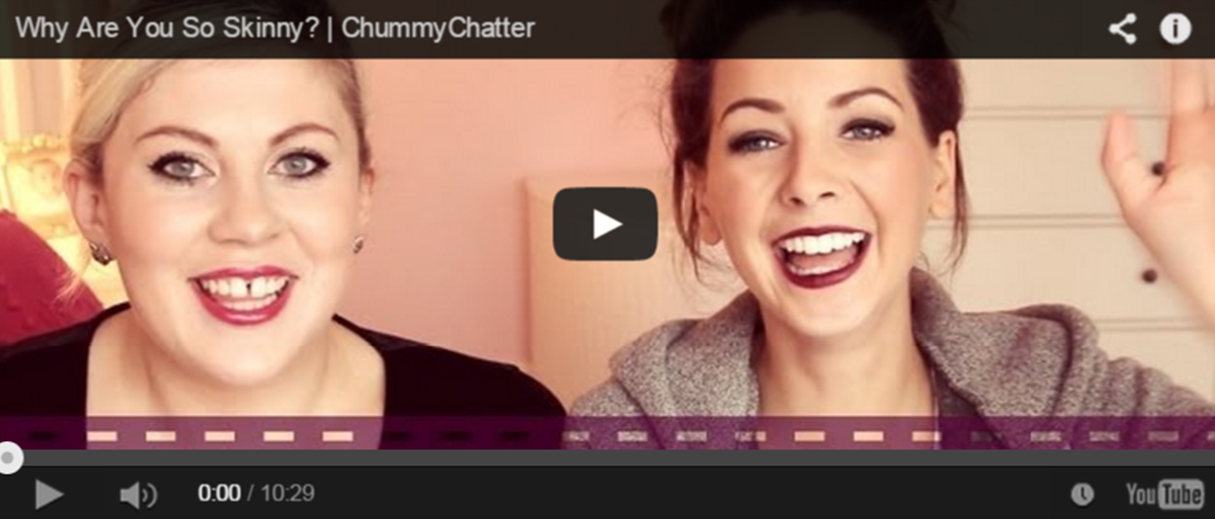 The elf-like and sublimely charming 24 year-old fashion and beauty vlogger Zoella (real name Zoe Elizabeth Sugg) speaks for a new generation of TV viewers. And I'm not talking about those who regularly tune into CBBC's Blue Peter.
The mainstay of Zoella's channel is about friendship, body image, boys and whether to go to university or not sprinkled between fashion and beauty tips that include hairstyles and 'shopping haul' trips.
Zoella earns a reported £300,000 a year endorsing products as well as having her own branded merchandise in  Superdrug, so she's living proof that going to university isn't the only option for building a successful career in something you have a passion for.
Having to overcome severe shyness and other phobias in her youth, she's become "inspirational" for my own daughter and I would agree Zoella is a terrific role model for how the power to realize your dreams can triumph even against all the odds.
What's so refreshing about these stars of the small screen is that they're breaking the mould of TV viewing.
And as a result, YouTube has become enormously powerful as a broadcaster in its own right that lets its stars deliver mass appeal without a TV channel controller or TV executive in sight that's calling the shots.
The democratisation of the media is alive and well – on YouTube! And long may that continue.
Talent agencies that represent these new stars, such as Gleam Futures in Shoreditch, east London, are starting to rewrite the rules of broadcasting and ironically mainstream media now wants to take a slice of the action by tempting these presenters to move over to traditional media channels.
It's also become a bit of a cottage industry – Dominic Smales, founder of Glitch Futures looks after the Chapman sisters (1.7m subscribers), manages Tanya Burr – Sam and Nic's one-time assistant, who has 2.6m subscribers to her beauty channel – as well as their brother (and Tanya's fiancé) Jim, who vlogs on men's fashion and lifestyle issues, and another brother, John of the fitness channel "The LeanMachines".
Such ties help each YouTuber to bootstrap up others by appearing on their channels and cross-promoting offerings.
That's very cute and a powerful business strategy to boot.
Although these stars represent just a fraction of the programming uploaded to YouTube – music videos are still the mainstay with more than 6.5bn hours of content watched on the social platform every month.
The marketing industry is in love with digital and social and sees an opportunity to move into the space that was once the preserve of broadcasters like ITV, BBC, Sky TV and Discovery.
This new breed of vloggers are 'crowd sourced peoples' champions', a bit like a TripAdvisor blogger that's been turned into a TV personality. It's easy to dismiss this as a passing fad and that the appeal of these twentysomethings has a limited shelf life.
But the so-called "lost generation" don't think so – in their teens and twenties who neither consume conventional media nor watch much TV. In the UK, viewing among Millennials has dropped sharply. Since 2010, the amount of TV watched by 16-34 year-olds has fallen by 15%.
So it's no surprise that brand owners of online games, clothing and beverages are seeking to tap into this pop culture via YouTube. For example, Pepsi now advertises more on digital platforms such as Facebook and YouTube than it does on conventional media.
However not all marketers feel comfortable completely letting go of the reigns of their brands and putting these into the hands of vloggers because it's tantamount to abdicating control over how the brand should be best projected to desired audience and customer segments.
In short, there needs to be a much more sophisticated approach in how marketers interact with their audiences on channels such as YouTube.
A useful example of the direction to take can be found in what celebrity chef Jamie Oliver has achieved on YouTube.
Despite having built a formidable multi-million business across traditional media channels and a lucrative TV franchise, Jamie Oliver quickly understood the power of social media by establishing Food Tube. He now has 20 chefs doing shows on the platform, from everything from Thai food to how to cook on a limited budget.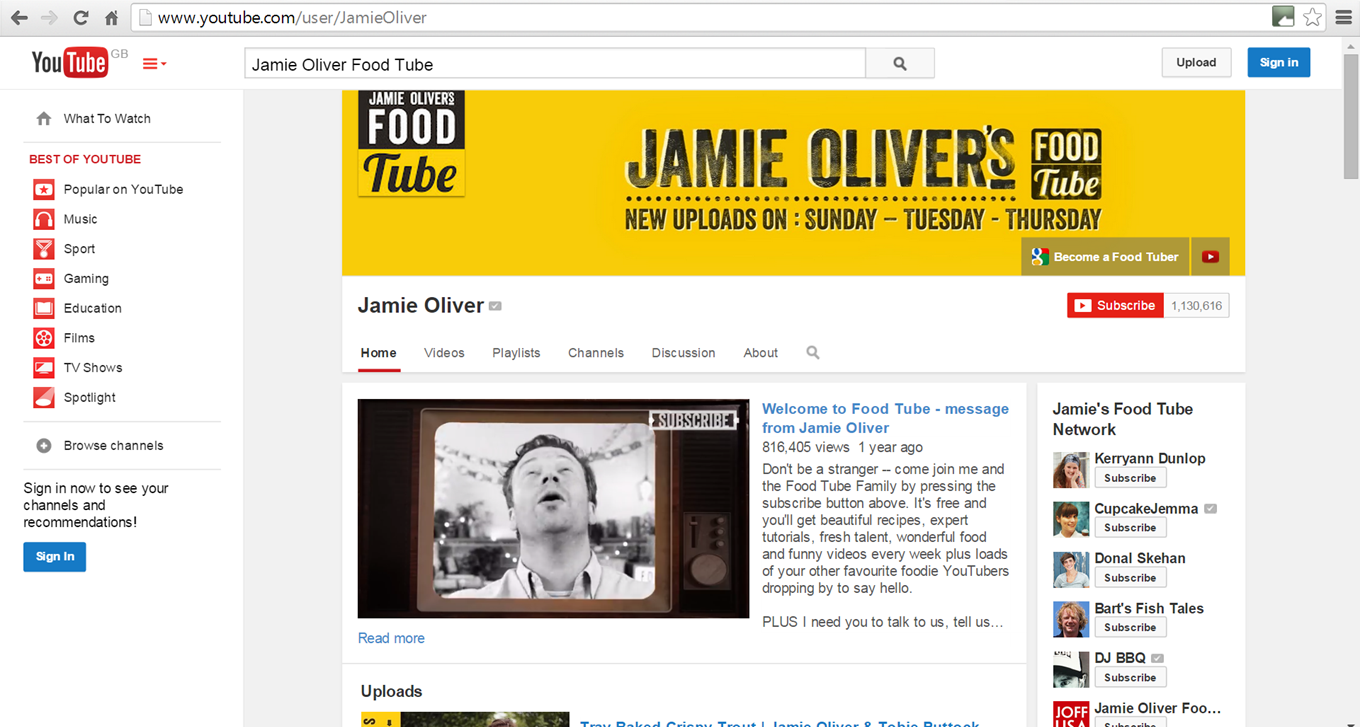 Food Tube already attracts in excess of 1m subscribers and three of the chefs featured on the channel have books out. "Fans engage with YouTube in ways that aren't possible on TV", says Jamie Oliver.
"The appeal for us is partly that it's a largely complementary audience," says Richard Herd, who's in charge of networks at Food Tube.
"It's a global platform and that means you reach 200 countries when you put out a video. The data you get on YouTube is simply amazing compared to TV. The average watcher is a 30 to 40-year-old bloke looking for a quick fix. They might watch a five-minute YouTube clip – they're not going to plough through a 30-minute programme."
Such a viewing experience can't be achieved by linear TV where TV advertisers are looking for a deeper emersion experience between the content and the viewers.
But the biggest advantage is Food Tube allows Jamie Oliver to experiment with new formats as low production costs means the channel can take risks with chefs it wouldn't ordinarily work with, such as those specialising in niche cooking areas like barbecues and cupcakes.
YouTube now looks like the future of TV, having morphed from its shaky start of a channel for badly shot home videos of pets and birthday parties to a fully-fledged media owner with a biggest audience reach than some broadcasters who've been at this game a lot longer.
Ben McOwen Wilson, director of content partnerships at YouTube has big ambitions for the world's most watched online channel. "Early on we realised this sort of on-demand video content had a pretty strong tailwind. And because of technology, more and more people around the world were going to be able to create content and if you had a platform that allowed people to find the stuff they wanted, you're in the middle of something quite exciting."
YouTube, owned by Google, looks like a money making machine for its owners. It sells advertising on creators' behalf and takes a 45% cut of the proceeds.
However, most users just want to skip the interruption model of brand communication and get on with watching what they want to see. This old school approach by Google to monetising its online investment in YouTube probably needs refining as according to estimates advertising revenue is just a fraction of that spent on mainstream TV networks and is anywhere between $3-$5bn annually.
"The model is based on these ads and the kids don't want to watch them," says Peter Bazalgette, chairman of Arts Council England and someone with a foot in both camps as a board member of ITV, Britain's largest commercial TV network and a serial investor in digital media.
Ad rates on YouTube are already low because of the difficulty of placing an ad next to a specific clip.
"Brand owners don't want to find their product placed alongside tasteless user-generated content," explains the media analyst Claire Enders.
But when nine out of every 10 viewers also skip the ad before a video, the proceeds can shrivel quite fast. Analysts calculate that even 1m hits – a substantial number for a YouTube video – can produce less than £1,000 in ad revenue. And that's before YouTube takes its 45 per cent cut.
The tiny number of celebrity vloggers may earn higher rates from advertising on their channels but they don't live off their AdSense income alone.
One of Gleam Futures key roles is to develop relationships with companies that want to place their products directly on screen with the stars – and will pay for the privilege.
Most of Dominic Smales' clients have such relationships. Tanya Burr has worked with beauty brands such as Dove and VO5. In the case of the video diarist Marcus Butler, it's Office shoes and Topman clothing.
Predictably, the argument that vloggers can't be deemed to be independent if they're accepting money in return for product placement is often raised. Provided that the audience that follow them don't feel exploited by the tie-in, then it's a win-win situation.
In any case, product placements on YouTube only account for less than 1% of all videos, which tends to indicate that the practice isn't negatively impacting the audience enjoyment of watching their favourite vloggers getting on with their job of entertaining, informing and engaging.
According to Peter Bazalgette, the nature of the content on YouTube is such that it expects its viewers to dip in and out with regular frequency. As mobile connectivity improves and more people have tablets and smartphones, the tendency to catch a five-minute clip while waiting or on the move will only go up and this works for some advertisers who may want to use location-based targeting in order to reach a desired audience or customer segment.
And those tempted to think that this is just a passing phase as audiences grow out of "snacking" on such content will need to think again, according to Dominic Smales.
"My idea is that swathes of this new audience will take this medium through to adulthood and beyond. Someone who loves watching Jim Chapman on YouTube now won't suddenly get to the ripe old age of 24 and say, 'Right, do you know what, I am going to just crank up the old television and start watching ITV much more often.' They'll take their viewing habits with them and the talent will evolve their content production as they engage with the audience as they all grow older."
However, not everyone agrees with this assessment. Claire Enders again: "YouTube is like the new version of rock music or MTV; it's become one of the places where the young go to indulge their dark side and rebel.
"When millennials get to 25 years-old and settle down, they'll drift back to the sort of sophisticated narratives and stories that only mainstream TV provides."
However, all commentators agree this audience won't stop watching YouTube altogether. Rather, the audience is likely to become "bipolar", craving both TV shows with mainstream appeal and also that cupcake-baking food show online.
The future of TV has most definitely arrived.